Turok 2- Seeds of Evil
Turok 2- Seeds of Evil | Best PC game | Highly Compressed in 115 mb|
Turok. The name that turned Acclaim's failing fortunes around with one broad sweep of its mighty arsenal. Upon its release, Turok faced little in the way of competition in the first-person shooter category. Shoddy ports of Hexen and Duke Nukem 3D did little to stifle the success of Acclaim's newest franchise. Not only did Turok: The Dinosaur Hunter pounce on the barren N64 landscape like a bat out of hell, it established development studio Iguana as a force to be reckoned with. However, as other developers got up to speed with the N64 development kits, the competition slowly but surely trickled in, most notably a humble little concoction by Nintendo favorite Rare. That game was GoldenEye. Incredibly fun and brilliantly designed, GoldenEye was, and still is, one of the N64's best titles. It had been acknowledged by many as the best first-person shooter on a home console to date. Knowing it had its work cut out for it, Iguana nevertheless decided to start from the ground up and fashion what would become its finest work to date: Turok 2: Seeds of Evil.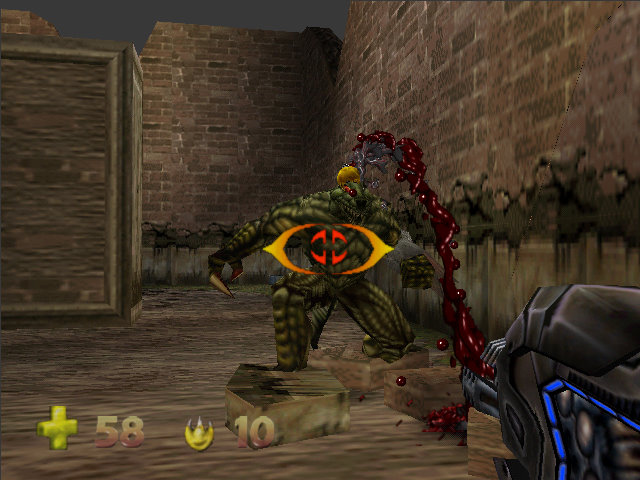 Nestled within the confines of its 32-meg cartridge (the largest N64 cart ever, along with Zelda) is one of the hugest games you'll ever have the pleasure of playing. Spread out over five virtual miles of gaming real estate, each of Turok 2's levels is absolutely gargantuan. Within each level are a certain number of areas that are accessed through warp portals scattered around the environments. The first level, for example, consists of nine areas, each larger than some entire levels in Banjo-Kazooie. The game is so large in fact, it's been stated to take approximately 45 hours to complete if you know where you're going. Not bad for a shooter.
The story so far: The Campaigner is dead. (Remember, you killed him in Turok 1 -- hopefully without the help of a cheat code). A long, long time ago, a spaceship crashed on Earth. Its cargo, an army of alien warriors headed by the nastiest villain yet, Primagen. Although he is trapped inside his ship, Primagen manages to send out his army of creatures and and turns dinosaurs into deadly killing machines. Like its predecessor, Turok 2 is a first-person shooter based on Acclaim's comic-book series -- but with less emphasis on jumping and more on action and exploration than Turok 1. This time around, it also will be necessary to go back into certain levels look for more items (Talismans) and open up new passages, making for a better, less linear adventure.
Installation Notes:

1.: Unrar and double click > Turok2English.exe for single player

2.: double click on Turok2MP.exe for multiplayer
(Yes people still play this online so have some fun.)

Note: As this game was made for the 3dfx glory days you may get a message
failed to launch as > glide3xdll < was not found. Just click ok and the
game still starts and plays no worries

:.release note .:
i know its abit older, but its a rar online playable game thats the reason for upload!.
just unrar play!. besides this there are many people who didnt even saw or played this.
just thought to let ya know about the release reason!.
Cheats:
While playing a game, enter one of
the following Codes:

Code Result

BEWAREOBLIVIONISATHAND Big Cheat
TROMPEM Big hands and feet mode
BIGBADNOODLE Big head mode
HELLOSTICKY Stick mode
LILLIPUTIAN Tiny mode
PICASSO Pen and Ink mode
HENRYSBILERP Gouraud mode
YOQUIEROJUAN Juans cheat
LEGOMANIAC Zach attack cheat
INEEDAUPS Blackout mode
WIZARDOFOZ Tasty frooty stripes
OBLIVIONISOUTTHERE Big cheat
JANESSPECIALWORLD Janes cheat
Alternate cheat codes
UBERNOODLE = big head mode
HOLASTICKBOY = Stick Man mode
STOMPEM = big hands and feet mode
PIPSQUEAK = makes enemies tiny
IGOTABFA = penandink mode
WHATSATEXTUREMAP = Garoud mode (weird colors)

While playing a game, enter one of the following key combinations:

ALTCTRLB = enable boxes
ALTCTRLR = toggle rain
ALTCTRLW = toggle wind
ALTCTRLS = toggle snow

For weapon sighting coordinates

While at the target range and ready to shoot, press ALTCTRLT. Fire to display targeting
coordinates in XY format. Use the cursor keys to adjust the coordinates until they are set
to 00. The weapon is now sighted in.
Download Part 1
Download Part 2
Download Part 3
Password>>>>
http://gamejungle.co.cc
Enjoy !!!!!